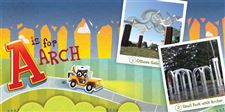 A page is shown from the new children's book called 'The ABC's of Public Art,' which tells the story of public art in Toledo.
Prizm Creative Community will staff an educational booth at the Black Swamp Arts Festival this weekend where its members will provide demonstrations and visitors can add their mark to a community painting. The Prizm booth will be in a small parking lot just south of Sam B's Restaurant, 163 S. Main St. Information: 419-931-8732 and prizm@bex.net. In addition, Bowling Green's First Friday Gallery Hop, showcasing downtown art venues, will be 5 to 8 p.m. Friday.
At the Toledo Museum of Art:
Andrew Erdos, whose glass piece, Twilight Powered by Electricity Makes for a Brilliant New Horizon was recently acquired by the museum, will speak at 6 p.m. Friday in the Little Theater. Erdos blends traditional and technological media with sculpture, video performance, and sound. Following the talk, he'll demonstrate glass blowing from about 7 to 10 p.m. in the Glass Pavilion's hot shop. His aforementioned work, in a mirrored case that appears to reflect his glass creatures ad infinitum, is in the Color Ignited exhibit in the new Wolfe Gallery.
In conjunction with the Alzheimer's Association, the museum has added a second monthly program for people who have early-stage memory loss. At 1:30 p.m. Saturday, the ongoing Meet Me at TMA, will tour the Color Ignited exhibit. A new program, A Brush with Art for which registration is required, will debut at 1 p.m. Sept. 14. In addition to discussing a specific type of art each month, it will include some art-making, aiming to foster mental alertness, manual dexterity, and socialization. Friends and family may attend. Additional sessions will be Oct. 12, Nov. 9, and Dec. 14. Funding is by Health Care REIT. Registration: 419-537-1999.
Prints and Authors from the Time of Manet opens Sept. 13 with more than 120 prints, photographs, and illustrated books produced in the 19th century. Previously, artists often focused on biblical, mythological, or historical subjects. Manet and his contemporaries took inspiration from the life around them. Included are works by Renoir, Corot, Daumier, and Whistler as well as Manet.
The museum's new fall class schedule for all ages, is at toledomuseum.org.
A new children's book telling the story of public art in Toledo has been published and a limited number of free copies are available from the Arts Commission of Greater Toledo. Aimed at ages 3 to 5, The ABC's of Public Art is an alphabet book that follows Artimus the Owl through an A to Z tour of public art. Author/illustrator Merrill Rainey has made a PDF of the book available for free download via his Web site, littlerainey.com/books.html. People can read the book online and print a copy.
The city's impressive collection of public art includes dozens of large-scale sculptures, murals, fountains, and other structures by more than 40 local, national, and international artists. Most were acquired through a pioneering 1977 ordinance that sets aside one percent of Toledo's Capital Improvement Budget for the purchase, conservation, and public education of art.
Rainey, a local graphic designer, was commissioned to create the book because of his well developed concept, said Marc Folk, the commission's executive director. Funding the book was the One Percent for Art program and the Ohio Arts Council.
Pottery classes for adults and children begin next week at the Toledo Potters' Guild. Adult classes ($187) are 10 weeks in length, meeting once a week for 2 1/2 hours Monday evenings. A children's session ($172) meets for two hours Wednesdays after school for 10 weeks. Information: 419-536-5723 and toledopottersguild.org.
OUT OF RUBBLE: Artists' Responses to War and its Aftermath, opens Friday and continues through Oct. 3 in the Bryan Gallery in the Fine Arts Center at Bowling Green State University. Related talks will be at 6 p.m. Sept. 10 in Room 204 of the center by Susanne Slavick, and Andrew Ellis Johnson, artists and teachers at Carnegie Mellon University; Marc Simon on War Powers, at noon Sept. 17 in Room 1101; at 4:30 p.m. Sept. 21 on PTSD and the Effects of War on Soldiers, in Room 1101; at 6 p.m. Sept. 21, Hiroshima Peace Seminar student presentations in the center's Nakamoto Gallery.
The fifth annual Masterpiece in the Making juried art and craft show, in conjunction with Jazzin' Tiffin, will be 1 to 9 p.m. Saturday at the edge of downtown Tiffin in Frost Parkway along the Sandusky River. Information: 419-902-7966.
Art classes for all ages are beginning soon at the Wassenberg Art Center in Van Wert, with subjects such as decorative ceramic carving, watercolors, Muppet theater, Photoshop, sgraffito pumpkins, experimental drawing and crazy techniques, and more. Information: 419-238-6837 and wassenbergartcenter.org.
Send items two weeks before the event to tlane@theblade.com.
Guidelines: Please keep your comments smart and civil. Don't attack other readers personally, and keep your language decent. Comments that violate these standards, or our privacy statement or visitor's agreement, are subject to being removed and commenters are subject to being banned. To post comments, you must be a registered user on toledoblade.com. To find out more, please visit the FAQ.