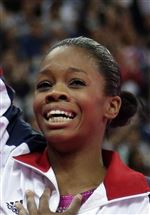 U.S. gymnast Gabrielle Douglas acknowledges the audience after being declared winner of the gold medal during the artistic gymnastics women's individual all-around competition at the 2012 Summer Olympics.
ASSOCIATED PRESS Enlarge
NEW YORK — Sixteen-year-old Olympic gold medalist Gabby Douglas plans to write an "inspirational memoir" that will be published later this year, People Magazine said.
Douglas made history in London at the 2012 Summer Olympics when she became the first African-American to win the gold medal in the all-round individual gymnastics competition.
Douglas told the magazine the book will detail how much she and her family overcame to achieve her Olympic dream.
Douglas, who took home two Olympic gold medals, left her family in Virginia to train in Iowa when she was 12 years old.
The book, Grace, Gold and Glory, My Leap of Faith will be published by the Zondervan division of HarperCollins in December.
Guidelines: Please keep your comments smart and civil. Don't attack other readers personally, and keep your language decent. Comments that violate these standards, or our privacy statement or visitor's agreement, are subject to being removed and commenters are subject to being banned. To post comments, you must be a registered user on toledoblade.com. To find out more, please visit the FAQ.