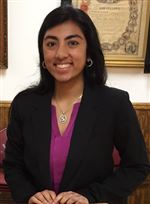 Shaina Shah of Bedford High School
FAVORITES:
School Subject: Chemistry
Extracurricular Activities: Student Council
Hobbies: Playing tennis
Car: Tesla
Store: Bath and Body Works
Musical Artist: Rascal Flatts
Movie: Princess Diaries
TV Show: Master Chef
FUN FACTS:
Cafeteria Food Must Have: Ice Cream
Last Book Read That Wasn't Required: The Dark Prophecy
Person You'd Like to Meet: Roger Federer
Person Most Admired: My mom
Item always in your locker: Sweatshirt
First Job: Assistant Tennis Instructor
Top Accomplishment: Academic All-Star
FUTURE PLANS:
After Graduation Plans: I plan to pursue a bachelor/masters in pharmaceutical science
Career Goal: Pharmacist
Quote from Teacher: "Shaina is a student who leaves a remarkable impression on everyone she meets," said Renee Fettig, Counselor. "Her poise, ambition and involvement in a diverse list of activities is exceptional and it is an honor to recognize her."
- Information is compiled for The Blade by the Educational Service Center of Lake Erie West.
Guidelines: Please keep your comments smart and civil. Don't attack other readers personally, and keep your language decent. Comments that violate these standards, or our privacy statement or visitor's agreement, are subject to being removed and commenters are subject to being banned. To post comments, you must be a registered user on toledoblade.com. To find out more, please visit the FAQ.