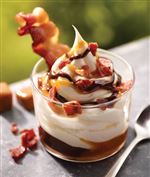 The Burger King bacon sundae.
ASSOCIATED PRESS Enlarge
The first time Tabitha Palmer had a bacon chocolate bar from the Vosges in Chicago, she fell in love with the sweet-and-salty combination. That was years ago, though, and it was just a foretaste of what could be done with the fried meat.
"Since then, whenever I see a recipe that cooperates chocolate and bacon, I'm willing to give it a good try," the 31-year-old said.
The bacon trend started sizzling about five years ago, moving from the breakfast plate to everything from desserts to drinks. And still the interest persists.
Le Chocoholique, a Columbus chocolate shop, sells a bacon chocolate bar, bacon gelato, and a chocolate cocktail made with bacon vodka.
The fast-food chain Burger King hopped on the bandwagon when it unveiled a bacon sundae on its summer menu.
A more highbrow take comes from Flip Side, a new burger joint at Easton Town Center that offers a Date Shake, with medjool dates, vanilla-bean ice cream, and house-made bacon-infused vodka.
And if the sweet-and-salty craver also needs a jolt of caffeine, Grandview Grind, an independent coffee shop in Grandview Heights, offers a bacon iced latte.
Columbus even has its own Bacon Camp, a day on which bacon lovers celebrate the meat with competitions and eating, co-organizer Beth Dekker said.
Creative ways to "honor" bacon are abundant and diverse, she said.
"Last year, a guy made a giant life-size owl out of bacon. We've had some delicious items, like bacon tacos. We've been able to celebrate the meat the way it should be celebrated."
The bacon trend began around 2007, when better pork was appearing in restaurants, said Kara Nielsen, who studies trends at CCD Innovation, a culinary consulting firm in San Francisco.
"It trickled up to groceries. They started getting more natural pork supplies," Nielsen said. " And this new resource kicked off an interest in using the whole animal and getting excited about how the animal tasted."
CCD Innovation classifies and maps culinary trends in five stages, beginning with fine dining and ending with quick-serve restaurants. The bacon trend is in Stage 5, Nielsen said, meaning that it is "mature."
"It's not newsworthy, but it's crave-worthy," Nielsen said. "Just because it stops being new doesn't mean that it has to go away."
Bacon's increasing influx into the dessert world makes it easy to find it paired with something other than eggs, including bacon ice cream, cocktails, brownies, and more
In addition to its chocolate bar and cocktail, Le Chocoholique sells a house-made "Velvet Elvis" -- a chocolate treat with peanut butter, bananas and bacon crumbles.
"It's our No. 1 seller," owner Monica Barr said, adding that it tops even buckeye-candy sales.
Barr has seen heightened interest in bacon in Columbus, she said.
"Two years ago, the food-trendy people knew," Barr said, "and now all of society is coming and seeking bacon in anything sweet." But the person who enjoys the fusion of bacon and sweets is often more than just an adventurous eater.
"Putting bacon in frosting on a cupcake is going to appeal to a certain person, and then they might move past it," Nielsen said. "(It appeals to) the millennial diner, someone with an open mind and an open palette. And someone who takes great pleasure in enjoying good-quality fat -- obviously that is a big part of the appeal."
Bacon-chocolate convert Palmer, who said she isn't typically on the lookout for "weird things," isn't a fan of many of the bacon-chocolate pairings she has seen.
Guidelines: Please keep your comments smart and civil. Don't attack other readers personally, and keep your language decent. Comments that violate these standards, or our privacy statement or visitor's agreement, are subject to being removed and commenters are subject to being banned. To post comments, you must be a registered user on toledoblade.com. To find out more, please visit the FAQ.