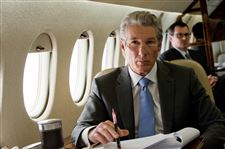 Richard Gere, in a scene from "Arbitrage," is seen in this film image released by Roadside Attractions.
ASSOCIATED PRESS Enlarge
PHILADELPHIA -- "You're in my hometown," says Richard Gere, calling Philadelphia from New York to talk about his perfectly timed financial-world thriller, Arbitrage. "Not that I've seen it much since I left, when I was 1."
His parents were students at the University of Pennsylvania, "just finishing up their college careers there," Gere says. "They came from a very small town in northeastern Pennsylvania -- Brooklyn, Pennsylvania, like the borough."
That was long ago -- 1949, to be exact. When Homer and Doris Gere graduated, they moved to Upstate New York, where little Richard grew up, passionate about music, gymnastics, and then, in his late teens, about acting.
Arbitrage, written and directed by Nicholas Jarecki, youngest brother of filmmaking siblings Andrew (All Good Things, Capturing the Friedmans) and Eugene Jarecki (Why We Fight), is Gere's 43rd motion picture. His career includes the box-office hits An Officer and a Gentleman, Pretty Woman, and Chicago. It includes Terrence Malick's lyrical American reverie, Days of Heaven. It includes movies with Robert Altman (Dr T and the Women), Francis Ford Coppola (The Cotton Club), Sidney Lumet (Power), and Todd Haynes (I'm Not There).
Gere has played a beautiful seducer in American Gigolo, a violent lover in Looking for Mr. Goodbar, a corrupt cop in Internal Affairs, a burned-out cop in Brooklyn's Finest, and a biblical legend in King David. There are duds and misfires in Gere's filmography, to be sure (Lancelot, anyone?), but very few have been uninteresting.
"It's not the same every time, it's never the same," says Gere -- who lives with his wife, the actress Carey Lowell, and their son, north of New York City -- in explaining the criteria he uses to decide which movies he'll make and which he'll pass on.
"With any project, there's a lot of empirical stuff. Is the script good? Is the part something that touches me? Is it worth putting this much energy in? Is there a reason for it to exist?
"But then, there is some kind of a voodoo that maybe is not rational . ... Whether or not you want to do it. And I suppose that's in the falling-in-love area.
"There might be a reason to say yes to a movie -- all the right reasons -- but the I'm-in-love factor is not there."
Arbitrage definitely had that falling-in-love factor going. Gere's character, Robert Miller, is a billionaire hedge-funder living in a stately Manhattan mansion with his philanthropist wife (played by Susan Sarandon), while their grown daughter (Another Earth's Brit Marling) helps run his company. But while the spreadsheets say Miller's operation is thriving, he knows it's not. He has cooked the books, jeopardizing everything -- his family's financial well-being, his reputation, his clients' investments. Desperately trying to sell the company before he's found out, Miller faces another crisis when he drives off into the country late at night with his mistress (the French model Laetitia Casta). Tim Roth, doing a kind of New Yawk Columbo thing, is the cop on Gere's trail.
"It was about something meaningful that resonates in all of our lives right now," says Gere, recalling his response when he first read Jarecki's screenplay. "A couple of years ago, the archetype for my character would have been Bernie Madoff, but since then the taint has become more widespread, or at least more widely uncovered: the professionals, the academics, the heads of banks, the Jamie Dimons" -- citing the chairman and chief executive officer of JP Morgan Chase and the controversy surrounding its investments.
"What we wanted to do, and we were very clear and careful about this in the film, was not tell the story of a sociopath," Gere says. "It's a story of us. How we all, somehow, believe that we can make immoral, unethical decisions in one part of our life and believe that it doesn't reverberate through the rest of our lives. There is no separation."
There has been talk of an Oscar nomination for Gere's work in Arbitrage, and although the writing lets him down in a few places, it is among his most refined and quietly powerful turns. His character is about money and power and maintaining hold of material things -- something far afield from Gere's well-chronicled spiritual pursuits. The actor is a devoted Buddhist and one of the Dalai Lama's highest-profile followers.
Gere's scenes with Marling are fraught with real father-daughter tensions -- the love, the disappointment. And Sarandon, who played wife to Gere's cheating spouse in Shall We Dance, doesn't let on how much she knows, or doesn't know, about her husband's fiduciary deceptions, or his marital ones.
"I think everyone knows more than they will fess up to in these cases," Gere says. "Nicholas' script gets to all of that, with subtlety, but with specificity. ... His father" -- Henry Jarecki -- "is a very well-known commodities trader; he himself made money in the markets. He knew that world very well, which I did not. It's one of the best scripts I had read in a long time . ... In the end, it was something that was very difficult to say no to."
Guidelines: Please keep your comments smart and civil. Don't attack other readers personally, and keep your language decent. Comments that violate these standards, or our privacy statement or visitor's agreement, are subject to being removed and commenters are subject to being banned. To post comments, you must be a registered user on toledoblade.com. To find out more, please visit the FAQ.