You pick your way through the movie theater to the best seat in the house, sink comfortably into the cushions and, maybe, prop your feet on the hard plastic back of the unoccupied chair in front of you. The lights are dimmed. You're ready for the feature to begin.
And then it does — a little less Jurassic World, a little more Jesus Christ.
If you head to the Cinemark at the Town Center at Levis Commons early enough on Sunday, it's the alternative sort of movie-going experience that might await. Redemption City Church holds services in two of the cineplex's theaters, at 9 a.m. and 10:30 a.m., projecting song lyrics and Scripture verses onto the silver screens that are more often slated for thrillers and romantic comedies.
"I'm still waiting for a new family to buy popcorn before they come into church. I think would be funny," Redemption City Lead Pastor Steven Whitlow said. "It hasn't happened yet."
VIDEO: Redemption City Church at Perrysburg's Cinemark
Movie theaters present a nontraditional, if not necessarily unusual, worship space for mobile congregations like Redemption City, which hooked up with the Cinemark in October, 2016. More than simply a means to an end for startup churches without a brick-and-mortar presence, local pastors like Mr. Whitlow and Sammy Adebiyi of Soma City Church said theaters in themselves are often attractive spaces for worship.
"The movie theater has this natural ambience. There's a great environment already," Pastor Whitlow said. "The seats are comfortable, great screens."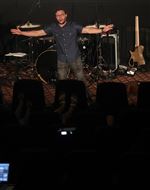 Pastor Steven Whitlow delivers the sermon during Redemption City Church's Sunday morning service which is held in Rave Cinemas movie theaters at Levis Commons on July 1, 2018.
The Blade/Amy E. Voigt
Enlarge | Buy This Image
And people already like to go there. So, especially for worshippers who might be wary of steeples, a theater is "safe and common ground," as Pastor Adebiyi puts it.
Soma City gathers at the Cinemark at Franklin Park Mall at 9:45 a.m. Sundays.
"We want to be a church where people who aren't really church people feel comfortable coming," Pastor Adebiyi said. "We couldn't think of a better place to do that than in the theater."
Redemption City and Soma City are part of a broader trend of congregations that meet in movie theaters across the United States. Cinemark typically arranges for congregations to come in between 7:30 and 11:30 a.m., according to its website. It's usually a slow time for movie-goers, local pastors said, although they'll often cross paths during blockbuster release weeks or during the summer season.
The trend isn't limited to multiscreen cineplexes: At least two congregations have worshipped out of the Maumee Indoor Theatre in recent years, Executive Director Sam Johnson said. The more recent of the two, the Village Church, closed its proverbial doors last year.
And in East Toledo, Cornerstone Church operates one of five regional campuses out of the historic Eastwood Theater, 817 E. Broadway, which it purchased in 2014. When it isn't using the space for services at 10 a.m. Sunday, it screens family friendly first-run films.
Thinks of it as a way to connect with the community, Eastwood Pastor Blake Elder said.
"We saw the usefulness for the east side community to have a family oriented movie theater on that side of town," he said. "So we wanted to make sure it was available for families to come and watch a movie together during the week."
While the history of the Eastwood stretches back nearly a century, including a stint screening X-rated films that Pastor Elder said some community members still bring up in conversations, Cornerstone Church actually has ties to it going back to 1993.
It held services there on Friday evenings for about a decade between 1993 and 2004.
When the church was looking to return to the neighborhood to set up a campus in 2014, Pastor Elder said, the theater, which happened to be available at the time, was an obvious choice.
"It makes it easy for us connect with people," he said, echoing pastors Whitlow and Adebiyi. "When people come into the facility and they get comfortable there for a movie, and they like the movie theater, and then they find out there's a church that meets in the movie theater, then I think that's a good connecting point."
Redemption City, Soma City, and Cornerstone are each nondenominational. Since their services aren't the type to ask attendees to kneel, line up, and the like, the comfy theater-style seating makes for a good fit.
Musicians are positioned in front of the screen to lead worship in each service. Pastors take a turn too. And, of course, congregations take advantage of the most obvious asset in the space, projecting lyrics, scripture references and other visuals to supplement services onto the screen.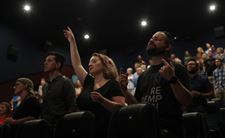 Brittany Galens, center, joins the congregration in prayer during Redemption City Church's Sunday morning service which is held in Rave Cinemas movie theaters at Levis Commons on July 1, 2018.
The Blade/Amy E. Voigt
Enlarge | Buy This Image
Is it tough to get in the frame of mind for worship after entering past advertisements for superhero flicks? Or, during blockbuster release weeks, when dinosaurs might be running amok in the adjacent theater at the same time you're praying in yours?
"It is an interesting atmosphere," said Hannah Lundquist, who's been at Soma City since it launched May, 2016, at Sylvania Northview High School. The "core team" gathers for a prayer before things really get going in the theater, she said, so that helps her get in the right headspace.
For Kristin Smith, who first checked out Redemption City about a year and a half ago, it wasn't hard to adjust to a movie theater environment. It didn't even strike her as unusual.
"I didn't really think twice about it," she said. "Churches do this kind of thing all the time, especially when they're starting."
After a service, it's up to church members to pack up, collecting and storing the floor lights, projectors, signage, and other equipment until the next weekend. Soma City and Redemption City rent office space in the area; for Soma City, it's actually just across the second level parking deck at the mall.
It's a mobile model that works well, pastors of both churches said. Short of the possibility of literally outgrowing the theater, neither has eyes on a more permanent location.
"Being portable is really important to us," Pastor Whitlow said. "As we grow in attendance, our budget will obviously grow as well. But our costs of renting the movie theater will stay the same, which means we'll be able to be much more generous to the community and to people in need in our own church, which we see as a big advantage."
The weekly rental is $900 for Redemption City.
When Soma City was shifting from high school to cinema in April, 2017, Pastor Adebiyi said, they actually turned down a rental that would have saved them the weekly packing and unpacking. It would have even been cheaper than the mall.
But to be in the heart of the city this way — and to be in the relaxed environment of the theater more specifically — proved worth the relative hassle.
"We chose this because we felt like this is a better context for our vision," Pastor Adebiyi said. "I don't see us really moving from that for a while."
Contact Nicki Gorny at ngorny@theblade.com or 419-724-6133.
Guidelines: Please keep your comments smart and civil. Don't attack other readers personally, and keep your language decent. Comments that violate these standards, or our privacy statement or visitor's agreement, are subject to being removed and commenters are subject to being banned. To post comments, you must be a registered user on toledoblade.com. To find out more, please visit the FAQ.