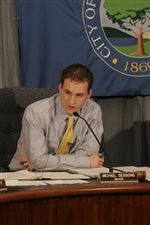 Sessions
The Blade/Andrew McMurtrie
Enlarge | Buy This Image
HILLSDALE - Mayor Michael Sessions, a student at Hillsdale College, has pleaded no contest in Hillsdale County District Court to a misdemeanor charge of sending a prank e-mail containing obscene language.
The 19-year-old mayor showed his age by admitting Monday that he wrote a prank e-mail to the mother of a former high school friend.
He now must complete 40 hours of community service and pay court and restitution fees to make up for his lapse in judgment.
"Ever since taking office almost two years ago, my youth has been an issue for some of the residents in Hillsdale and even for people in far off countries," Mr. Sessions wrote in a statement.
"For some it has been a curiosity, while for others it has been a deep source of criticism and distrust of my abilities."
"However today I must apologize because I have also proved my critics right," he wrote.
The prosecutor's office charged that Mr. Sessions sent three e-mails on April 2 under false pretences.
For one of the e-mails he used the name of Collin Dwarzski, the roommate of former Hillsdale high school classmate Brandon Thomas. Mr. Thomas served as Mr. Ses- sions' campaign manager in the autumn of 2005 when Mr. Sessions waged a successful write-in campaign and captured the mayor's post by two votes over incumbent Douglas Ingles.
The warrant stated "the e-mail sent to the mother of Brandon Thomas contained obscene language and was designed to disparage and annoy."
The e-mail attempted to convince Mr. Thomas' mother that her son and his roommate were regularly out drinking, partying, and womanizing, Prosecutor Neal A. Brady said yesterday.
The prosecutor said Mr. Sessions sent two other e-mails, both to Eastern Michigan University's housing authority.
The e-mails stated that Mr. Thomas, 19, who attends Eastern Michigan, had dropped out of school, was partying, and was an overall bad influence to the university's community, Mr. Brady said.
Mr. Sessions used the pseudonym of a "concerned parent" for one e-mail, and a concerned female student for the other e-mail.
The campus police began investigating Mr. Thomas, but the police soon realized that there wasn't a case and discovered all three e-mails had originated from the Hillsdale mayor's home computer, according to the prosecutor.
The Michigan State Police completed the remainder of the investigation and forwarded it to the Hillsdale prosecutor's office.
In addition to the misdemeanor charge, Mr. Sessions initially was also charged with two felonies - unauthorized access of a computer and using a computer to commit a crime.
The prosecutor's office charged that Mr. Sessions used his computer to hack into Mr. Thomas' computer and deleted his My Space and AOL AIM accounts.
Mr. Sessions said, "Although I acted childish, I am still determined to do the adult thing and take responsibility."
"I must swallow my pride and take responsibility for involvement in an exchange of pranks between my former campaign manager and I that has now clearly crossed the line something stupid and immature," he said.
As a part of the plea agreement, Mr. Brady dropped the two felony charges.
Judge Donald Sanderson ordered Mr. Sessions to be on probation for seven weeks.
During that time, he must perform 40 hours of community service, make restitution of $850 to Mr. Thomas, and pay a probation oversight fee of $100 to the court.
Mr. Brady said if Mr. Sessions completes the probationary period without incident, the misdemeanor charge likely will be dropped.
The judge set formal sentencing for Aug. 20.
- Benjamin Alexander-Bloch
Guidelines: Please keep your comments smart and civil. Don't attack other readers personally, and keep your language decent. Comments that violate these standards, or our privacy statement or visitor's agreement, are subject to being removed and commenters are subject to being banned. To post comments, you must be a registered user on toledoblade.com. To find out more, please visit the FAQ.