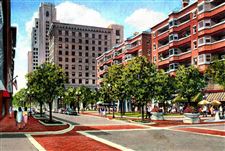 An artist's conception of the downtown shows two five-story brick apartment buildings, at right, filling a large portion of the block now occupied by the Madison Building and the bus station at Madison Avenue and Erie Street.
Just months after city leaders wrestled to save the Madison Building at Madison Avenue and Huron Street from demolition and spent thousands of dollars to repair its leaky roof, a downtown consultant said yesterday that the historic structure might be too costly to save.
Cy Paumier of LDR International, a consultant hired by Downtown Toledo, Inc., presented his vision for the downtown to a crowd of more than 100 last night at SeaGate Centre - a vision that might not include the Madison Building, which includes the historic Nasby Building.
"I think it would cost more to restore that building than to replicate it," he said. "We're concerned about the economics of renovating that building."
LDR of Columbia, Md., is a subsidiary of HNTB, the company constructing the I-280 bridge across the Maumee River.
Mr. Paumier said his goal is to develop a comprehensive five-year plan, including a budget, for attracting residences and restaurants downtown and making its main streets and riverfront more inviting and pedestrian-friendly.
His suggestions include installing brick sidewalks, opening a view of the riverfront from Summit Street, and adding landscaping to beautify streets.
He did not have any cost estimates.
Much of his presentation focused on Madison Avenue and Huron Street, which the consultant called gateways to downtown. He said the streets include several "spectacular" buildings, but added that surface parking lots and bare sidewalks offer no appeal for pedestrians.
"These two streets need to have a holistic effect, like they link together," Mr. Paumier said. "Right now, they have quite a lot of missing teeth. Parking is important, but it doesn't need to front on the most important streets in town."
Using an overhead projector, Mr. Paumier showed photos of downtown streets, examples of redevelopment projects in other cities, and artists' renderings of what Madison Avenue could look like if revitalized between Erie and Huron streets.
In one rendering, two five-story brick apartment buildings fill much of the block, taking the place of the Madison Building and the TARTA station at Madison and Erie. The drawing depicted wide brick sidewalks, flower boxes, trees, and caf tables gracing the front of restaurants on the buildings' ground floors.
Mr. Paumier envisions a sidewalk plaza at the Madison Building site with a fountain and a statue or other monument in honor of David Ross Locke, a 19th century editor of The Blade.
"He was obviously a very important figure," Mr. Paumier said. "If the Nasby Building can't be saved, there should be a public place to honor this man and his work."
Mr. Locke's satirical character Petroleum Vesuvius Nasby inspired the name of the Nasby Building, the eight-story 1892 structure that makes up half of the Madison Building. Its other half, the Wayne Building, was built as a bank in 1924.
A steel covering was added to the buildings in the 1960s to give them the appearance of one structure. The city acquired the buildings a year ago, in an effort to save them from demolition.
The Wayne Building contains a large and ornate bank lobby. The Nasby Building was designed in a Spanish style, but its bay windows were torn off when the steel facing was added. A cupola that once graced the top of the building was removed in 1934.
The Nasby Building has a prominent place in the city's history. Thomas Walbridge, the founder and president of the People's Savings Association, commissioned architect E.O. Fallis to design it. Mr. Fallis also designed the Valentine Theatre.
Mr. Paumier said Madison Avenue "desperately needs a public space" and that such an open area could be located where the TARTA station is if the Madison Building is renovated.
"If we move it a block to the west, it'll help, but it won't have near the impact," he said.
Mr. Paumier gave city council a preview of his presentation at its economic development committee meeting yesterday afternoon. Eyebrows raised when Mr. Paumier suggested that the Madison Building be demolished.
Council President Peter Ujvagi said he would like to see the buildings saved if possible, citing what he called the exciting elements of their facades.
Councilwoman Edna Brown said she wished the idea had been discussed before council spent $205,000 last summer to put a new roof on the buildings.
City officials have struggled for 18 months to save the Madison Building.
In 1999, the building's former owner, Cincinnati real-estate developer Tony Sansalone, offered to donate the building to the city, but the administration refused, saying that it needed too many repairs and would be too expensive to renovate.
After Mr. Sansalone threatened to tear it down, Mayor Carty Finkbeiner made the building his cause and vowed to save it and find a developer for it. The city took control of the Madison Building in January, 2000, and ownership was transferred formally on June 1.
To date, many prospective developers have toured the structure, but none has taken on the project.
Guidelines: Please keep your comments smart and civil. Don't attack other readers personally, and keep your language decent. Comments that violate these standards, or our privacy statement or visitor's agreement, are subject to being removed and commenters are subject to being banned. To post comments, you must be a registered user on toledoblade.com. To find out more, please visit the FAQ.