New front fascia highlights Cherokee update
1/16/2018
DETROIT — The updated Jeep Cherokee is trading in its squinty face for a more conventional look.
"We kept that design, but we've softened it," said Mike Manley, who leads the Jeep brand for Fiat Chrysler Automobiles. "I think our customers really will appreciate that. We had a lot of feedback that said the first Cherokee was a little bit polarizing because of the design, and frankly that was by intent."
Jeep officials have said they needed to have an eye-catching — if not outright unusual — design with the earlier Cherokee to re-establish the brand into what is one of the automotive industry's most competitive segments.
WATCH: Blade reporter Tyrel Linkhorn wraps up the second day at the North American International Auto Show

It worked, with Cherokee sales peaking at 220,260 in 2015. But over the last two years sales have fallen off significantly as competitors received updates and the Cherokee's design aged. Last year, Jeep sold 169,882 Cherokees.
With the new model, Jeep hopes to reignite that spark.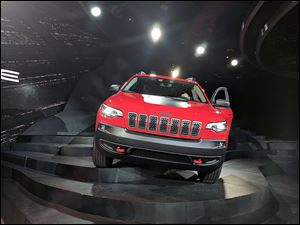 The new Jeep Cherokee features an updated front fascia, along with a redesigned back lift gate, wider rear cargo area, and some minor interior tweaks.
In addition to the new front fascia, which incorporates headlights not unlike those on its smaller Compass and larger Grand Cherokee siblings, the new vehicle gets a redesigned, lighter rear liftgate that moves the license plate up to a more centered position, a slightly wider rear cargo area, and some minor tweaks to the interior.
The vehicle notably also gets FCA's new fourth-generation UConnect system.
"Technology is really important. We're known obviously for our off-road capability, but now I think we're known increasingly to have very, very quiet cabins, great on-road dynamics, and there is nothing convenience-wise that's missing from our vehicles," Mr. Manley said.
Both the 3.2-liter V-6 and the 2.4-liter four-cylinder engines from the current Cherokee carry over, though Fiat Chrysler is adding a third engine option in a new 2.0-liter turbocharged four-cylinder with 270 horsepower and 295 pound-feet of torque. That makes the 2.0-liter, which figures to be the premium engine, the most powerful of the three.
With the V-6, the Cherokee offers a 4,500-pound towing capacity.
Mr. Manley said it was important to offer a range of engines to present different things to different buyers.
"If they're towing, obviously the V-6 power that I talked about is really important. Fuel economy continues to be important, hence our new 2-liter engine, but we like to be accessible to many people ... which is why we kept the 2.4," Mr. Manley said.
As in the current Cherokee, all engines will be mated to FCA's nine-speed automatic transmission.
The Cherokee was originally built in the north section of the Toledo Assembly Complex, but FCA moved production to its Belvidere, Ill., plant last summer as one piece of a larger puzzle to realign its North American production footprint.
Moving the Cherokee out of Toledo also allowed FCA to retool part of the Toledo Assembly Complex for the next-generation Wrangler while continuing full-out production of the outgoing model.
In the five-year production run in Toledo, Jeep workers built 949,151 Cherokees.
Pricing hasn't been announced for the new Cherokee.
Contact Tyrel Linkhorn at tlinkhorn@theblade.com, 419-724-6134, or on Twitter @TyrelLinkhorn.